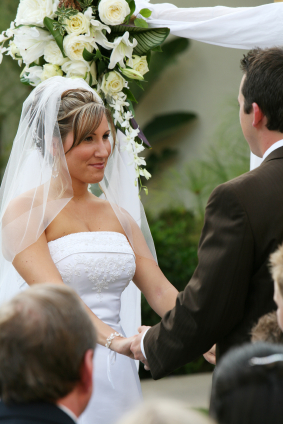 CC King Entertainment uses only the highest quality ceremony sound system for your wedding ceremony.
Say goodbye to microphone stands that get in the way. CC King uses a wireless lapel microphone to be worn by your ceremony officiant that will allow the officiant as well as the couple stating their vows to be heard clearly.
Possible light rain during an outdoor ceremony? No problem. CC King uses waterproof speaker covers that are visually appealing and are sound transparent. If a light rain begins during the ceremony other DJ companies will have to stop your ceremony to protect their equipment. Not us. Our speaker covers ensure there will be no interruption due to light rain.
Where is the average DJ during cocktail hour? We want to hear music! Sorry he or she is tearing down the equipment from the ceremony to use it for the reception. Not with CC King!! We have tons of equipment and we will have both set ups for the ceremony and reception ready to go even before your big day begins. So after the ceremony, the DJ will be at the reception site playing music before your guests arrive!
CC King Entertainment
33006 W 7 Mile Rd. STE 401 Livonia Michigan 48152
248-388-7974
Save
Save
Save
Save
Save
Save
Save
Save
Save
Save
Save
Save
Save